Earthquakes are not new to Nepal. It has faced many in the past. But the one that hit the Kathmandu valley at 11:56 am (11:41 am IST) on 25 April 2015, the worst in the last eighty years was massive and devastating. With a reported magnitude of 7.8 on Richter scale, this earthquake rattled Nepal. Thousands of buildings including the heritage monuments collapsed in seconds, thousands of people got trapped under the ruins. Rescue operations with the help of international community could save many.
The tremors that continued (Aftershocks) hindered the efforts,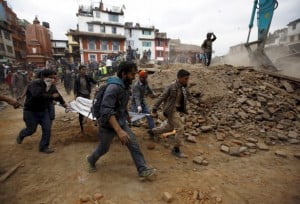 thousands of people were saved from the rubble and concrete. It was estimated that around 8471 people were dead and 23000 seriously injured. Another earthquake that hit the east of Kathmandu on 12 May had a magnitude of 7.3 on the scale. This time, the death toll was 153 and 3250 people seriously injured and thousands of people lost their houses and work places. Public offices and schools faced heavy damages.
In some villages, 90% of the houses have collapsed. United Nations estimates that 'some eight million of Nepal's 28 million people have had their lives disrupted.
1.5 million needed food assistance. Tens of thousands left homeless. The liberal flow of donations and support of volunteers are bringing Nepal back to life.
When disasters strike, it is the human life that calls for immediate rescue operations. Public attention is drawn towards human life and property always. The livestock and pets go unnoticed. Their cries are always unheard of. The dumb creatures of God are the worst hit in disasters. Thousands might have died, many would be seriously injured and almost all others would have lost their shelters or missed their masters. And the Nepal tragedy is no different.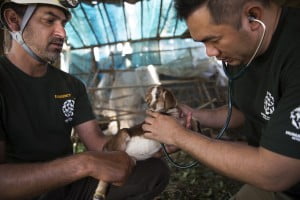 The international organizations and other groups for animal welfare were quick to respond. Teams of veterinarians and volunteers rushed to Nepal and started their silent crusade. Vets from Humane Society International (HSI), Animal Welfare Network Nepal (AWNN), Society for Animal welfare & Management, Himalayan Animal Rescue Team, Kathmandu Animal Treatment Centre, Animal Nepal, Nepal SPCA actively involved in the rescue mission.
Searching for the injured animals were tiresome as most of the animals were kept in rural areas, the disaster disconnecting them from mainland. Hundreds of large and small animals were rescued by the teams. Those who were alive were severely injured and disease stricken.
The shelters were down almost everywhere but the movement of the animals were restricted as they were tied down. Days and nights in open area with out feed and water made them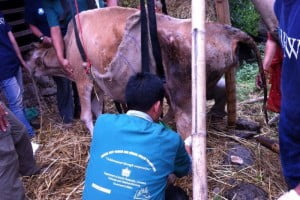 very sick. They were not even taken for grazing as their owners are busy reconstructing their houses. People had to find food and shelter for their families and the animals are often neglected. These animals are stressed and stress leads to poor immunity and onset of diseases. Besides the livestock, thousands of street dogs too were injured and infected and needed healthcare.
Most of the animals were of broken limbs and were facing the risk of infection. In many cases, the teams helped pulling out animals from the ruins and rendered veterinary care on the spot. Veterinary care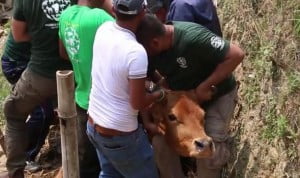 was absolutely essential to fight dehydration and infections. The animals were suffering from a range of conditions from broken and crushed bones and lacerations.  Most of them suffered from respiratory disease like pneumonia following exposure to days and nights without shelter. Incidentally, the animals of Kathmandu Zoo were found safe.
Even weeks after the quake, many injured animals found unattended. Thousands of starving cattle, goats and dogs were given feed. Arrangements were made for prompt refilling. According to  'Humane Society International', up to nine million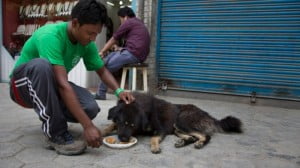 cows, goats and other livestock were either killed or injured following the powerful 7.8 magnitude earthquake. In many cases, the veterinarians of HSI worked together with the local vets.
Though the Government of Nepal ordered all the human rescue teams to vacate, the animal rescue teams continued their operations. The impoverished farming community thankfully appreciate the services of the animal rescue teams. Besides vaccinations and veterinary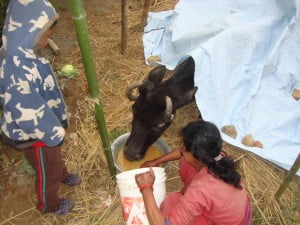 treatments, the HSI teams supplied Tarpauline sheets to farmers to shelter their animals from the scorching sun and ensuing monsoon. Animal Welfare Network of Nepal (AWNN) were coordinating the supply of these tarpaulin sheets and will also assist the villagers to set them up in remote locations.
According to media reports, many veterinarians from Mumbai too joined the teams of international veterinarians. Those who reached Nepal four
days after the quake, found animals trapped in debris, orphaned animals, and cows with fractures and spinal injuries.Many animals were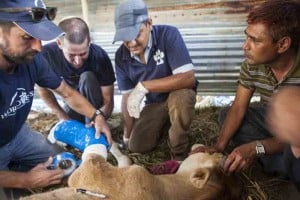 left with hip fractures, spinal injuries and skin tears. There were instances of many cows and buffaloes dug out of debris with fatal injuries. After receiving treatment and support, many survived. It is reported that as many as 250 animals a day were treated by each team of veterinarians. The international teams worked in tandem with the Livestock Department of the Government and ensured not to have duplication of efforts.(Nepal's rural families relied on livestock for their livelihood.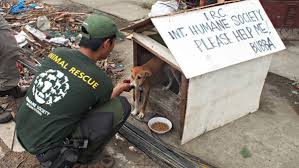 An average of 5 to 8 heads of livestock and poultry are reared per household. Even though the animals were under productive, people used to keep them. Cost implications never deterred the people from rearing animals however under-productive or un-economic they may be. The sector with 69.36 million livestock population contributes to 13% of GDP. The genetic inferiority, poor management practices and lack of governmental interventions keep the livestock farming sector of Nepal way behind the neighboring countries. Though the Nepal Veterinary Council has 698 registered veterinarians, 73% of the villages remain without government supported services. The primary level livestock workers named 'Village Animal health Workers' are 5000 in number but are reported to be technically ill equipped and under-utilized by farmers.